"To protect and serve"
How many times have we heard that? What does that mean to you?
If your job is to protect the public, to serve the public, keep them safe, and make them feel secure, where then does ego come into play?
Well, if you ask Tim Ellis, the most important part of his job as a public servant is to make himself the center of attention.
On Friday, September 8th, Tim Ellis (once again) put his ego before his training and protocol, putting the health and safety of the public at risk. Patrolman Ellis was at the Nordonia Knights game as "security detail", along with several officers from the Macedonia PD. They did their jobs, spoke to each other, and according to several witnesses, seemed to avoid interacting with Mr. Ellis, like so many others.
By the middle of the game, Ellis must have been desperate for some action. He spotted a local EMT that he's well-acquainted with assisting an injured woman. The woman had slipped on the bleachers. Luckily, the EMT happened to be attending the game with his family and was right there in seconds, reassuring the injured woman and tending to her while maintaining a necessary calm. The true hallmark of a public servant.
Unfortunately for the injured guest and the EMT, Ellis thought that he was more equipped to handle the situation. According to a complaint filed by the EMT on September 11th, Ellis threw himself into the scene and became an unneeded, unwanted and unhelpful nuisance.
We've seen it before with him. He makes bad calls, poor choices and tries to intimidate to get his way. But on that Friday, he met a professional. A real hero, a public servant who doesn't lead with ego but rather with heart. A well-loved and respected member of the community who knows how to handle a crisis and is actually trained in emergency care.
A nurse was also in the stands and rushed to help the EMT tend to the injured guest. Trained EMTs have a legal and moral obligation to assist those in need. According to the EMT's complaint, Ellis allegedly tried to commandeer the situation, asking him to back up, and stating forcefully "We are not going to have an issue with this [EMT], are we?" Moments later, the guest fainted and Ellis allegedly put his arm across the EMT's chest and pushed him out of the way. The nurse was also shoved away from the situation by Ellis at this time.
Ellis is not trained in medical care, the nurse and EMT are. While the EMT was there as a civilian, his training and protocol say that he should have been the lead on this, with Ellis acting to support him. Ellis' behavior not only put the patient at risk, but it also could have put the EMT at risk of legal action since it is his duty to help.
According to several witnesses who were there after the EMT was pushed away, Officer Ellis allegedly stood around doing absolutely nothing while waiting for the squad to get there. Imagine yourself in the shoes of the injured woman who was passing out… her care was delayed so that a problematic officer could try to play hero and aid public opinion of himself.
Ellis' behavior during this was so shocking that the EMT filed a complaint with the Sagamore Hills Police Department, requesting an investigation into the assault on his person as well as the failures of protocol. Included below is a scan of the EMT's statement, as well as the text of the statement. We will continue to post updates on the investigation as they happen. In the meantime, please sign our petition: Keep Abusive Officer Tim Ellis Off of Nordonia Hills School Board
Also read about: How Nordonia Hills School Board Candidate Tim Ellis Cost Sagamore Hills Taxpayers $650,000.00 by Abusing Power as Police Officer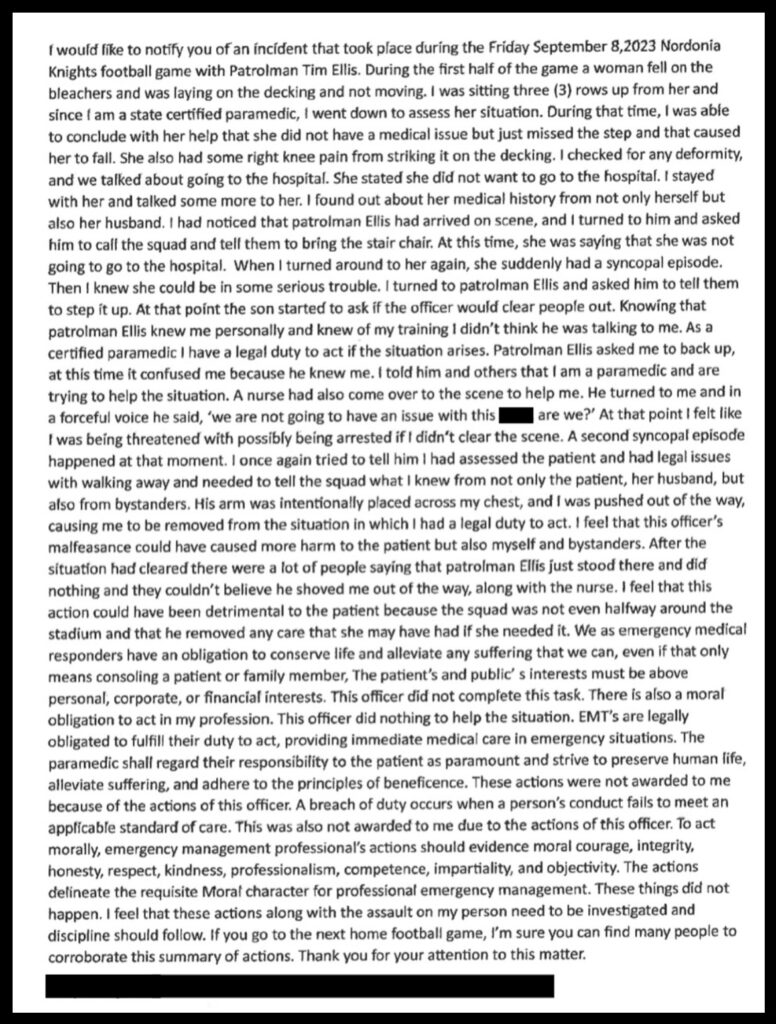 "I would like to notify you of an incident that took place during the Friday September 8,2023 Nordonia Knights football game with Patrolman Tim Ellis. During the first half of the game a woman fell on the bleachers and was laying on the decking and not moving. I was sitting three (3) rows up from her and since I am a state certified paramedic, I went down to assess her situation. During that time, I was able to conclude with her help that she did not have a medical issue but just missed the step and that caused her to fall. She also had some right knee pain from striking it on the decking. I checked for any deformity, and we talked about going to the hospital. She stated she did not want to go to the hospital. I stayed with her and talked some more to her. I found out about her medical history from not only herself but also her husband. I had noticed that patrolman Ellis had arrived on scene, and I turned to him and asked him to call the squad and tell them to bring the stair chair. At this time, she was saying that she was not going to go to the hospital. When I turned around to her again, she suddenly had a syncopal episode.
Then I knew she could be in some serious trouble. I turned to patrolman Ellis and asked him to tell them to step it up. At that point the son started to ask if the officer would clear people out. Knowing that patrolman Ellis knew me personally and knew of my training I didn't think he was talking to me. As a certified paramedic I have a legal duty to act if the situation arises. Patrolman Ellis asked me to back up, at this time it confused me because he knew me. I told him and others that I am a paramedic and are trying to help the situation. A nurse had also come over to the scene to help me. He turned to me and in a forceful voice he said, "we are not going to have an issue with this [first name], are we?" At that point I felt like I was being threatened with possibly being arrested if I didn't clear the scene. A second syncopal episode happened at that moment. I once again tried to tell him I had assessed the patient and had legal issues with walking away and needed to tell the squad what I knew from not only the patient, her husband, but also from bystanders. His arm was intentionally placed across my chest, and I was pushed out of the way, causing me to be removed from the situation in which I had a legal duty to act. I feel that this officer's malfeasance could have caused more harm to the patient but also myself and bystanders. After the situation had cleared there were a lot of people saying that patrolman Ellis just stood there and did nothing and they couldn't believe he shoved me out of the way, along with the nurse. I feel that this action could have been detrimental to the patient because the squad was not even halfway around the stadium and that he removed any care that she may have had if she needed it. We as emergency medical responders have an obligation to conserve life and alleviate any suffering that we can, even if that only means consoling a patient or family member, The patient's and public's interests must be above personal, corporate, or financial interests. This officer did not complete this task. There is also a moral obligation to act in my profession. This officer did nothing to help the situation. EMT's are legally obligated to fulfill their duty to act, providing immediate medical care in emergency situations. The paramedic shall regard their responsibility to the patient as paramount and strive to preserve human life, alleviate suffering. and adhere to the principles of beneficence. These actions were not awarded to me because of the actions of this officer. A breach of duty occurs when a person's conduct fails to meet an applicable standard of care. This was also not awarded to me due to the actions of this officer. To act morally, emergency management professional's actions should evidence moral courage, integrity, honesty, respect, kindness, professionalism, competence, impartiality, and objectivity. The actions delineate the requisite Moral character for professional emergency management. These things did not happen. I feel that these actions along with the assault on my person need to be investigated and discipline should follow. If you go to the next home football game, I'm sure you can find many people to corroborate this summary of actions. Thank you for your attention to this matter."