UPDATE 4/11/23:
After multiple people reached out to The Autism Society of Greater Akron, they've responded with the following post: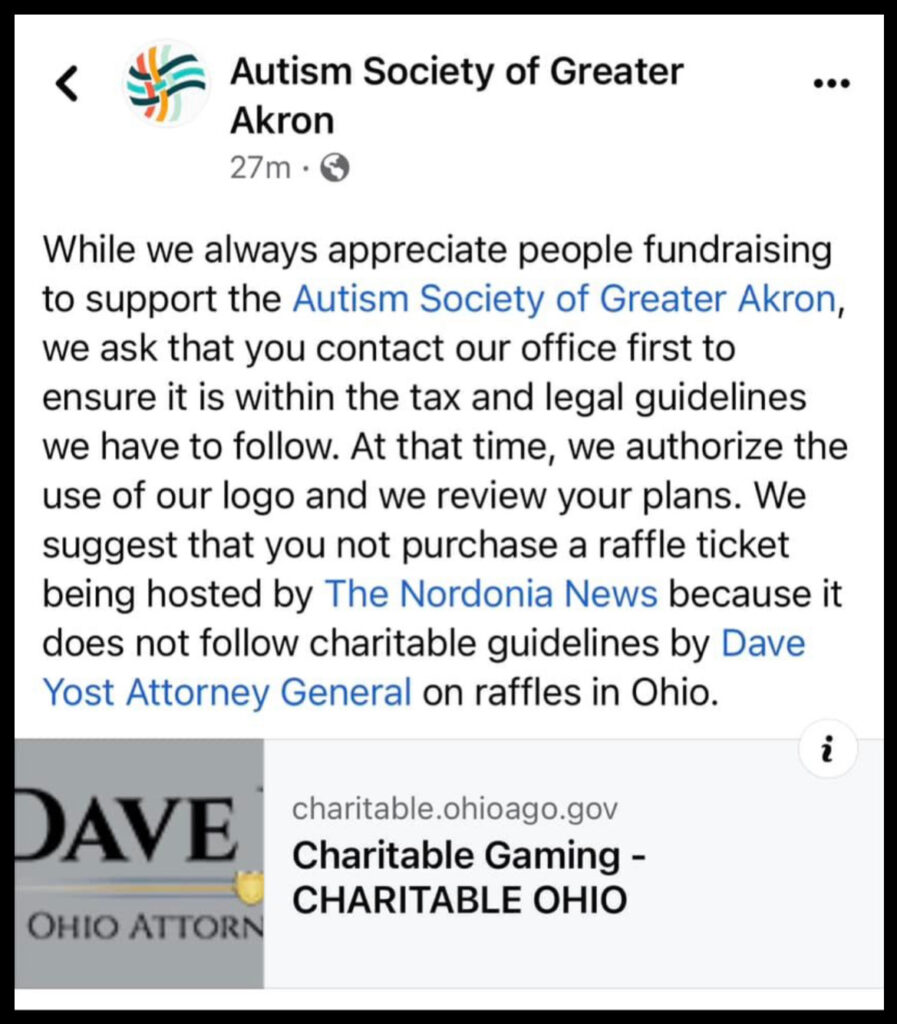 It turns out that Michael Smith's raffle violates several of the Attorney General's charitable gaming guidelines. We urge everyone to file a complaint with the Ohio Attorney General, especially if you've bought tickets to any of Michael Smith's raffles, past or present.
Since this month's raffle from Michael Smith and "The Nordonia News" has turned out to be an unapproved fundraiser that violated multiple laws, we've decided to make a donation and fundraiser for a Nordonia Hills family's walk team for Autism Society of Greater Akron, Andrew's Heroes. 100% of funds raised will go to straight to Andrew's Heroes and will not end up in the pockets of local grifter, Michael Smith. If you'd like to donate to Andrew's Heroes, you may do so at our Facebook page, HERE.
---
It's a new month which means "The Nordonia News" is starting a new scam raffle! For this scam raffle, Michael Smith is claiming that 80% of proceeds will go to the Autism Society of Greater Akron.
In this blog, we will break down everything that is wrong with the raffle, and show why people should absolutely not participate in it.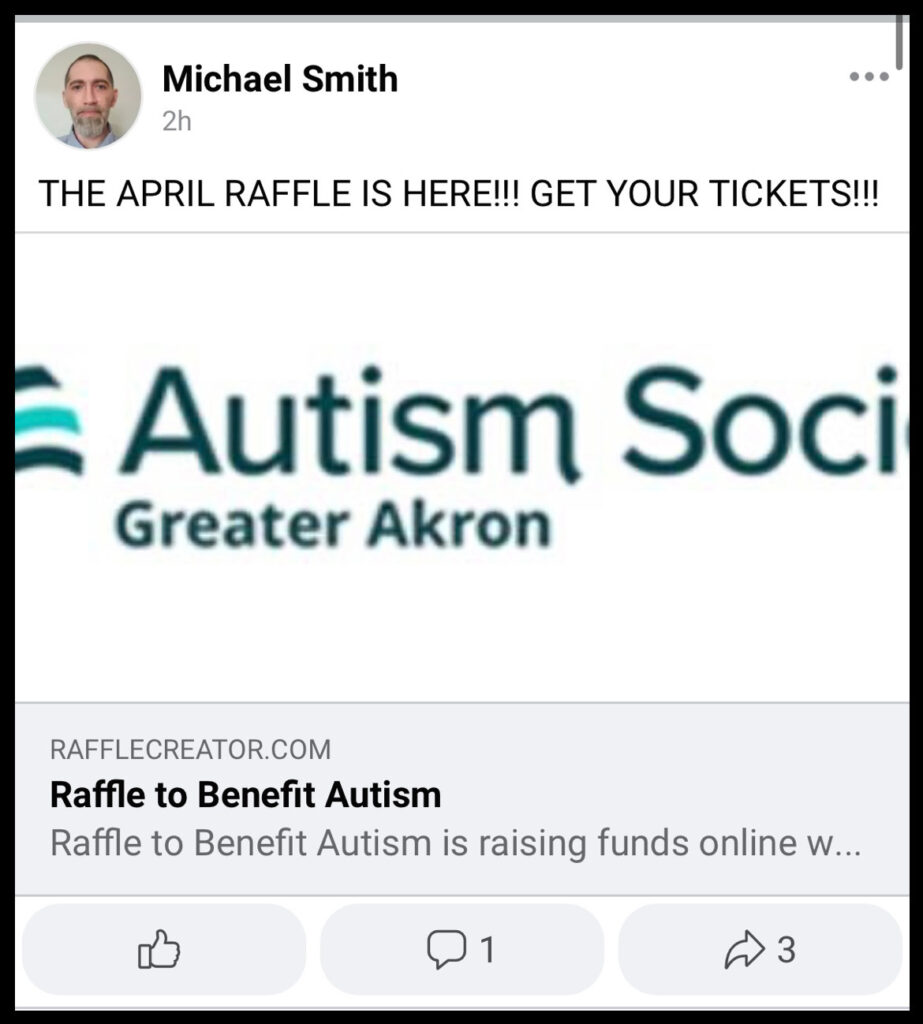 There are many problems with this raffle, but perhaps the biggest one is that Michael Smith says it is to "fight Autism". This is extremely problematic for several reasons, one being that you do not "fight Autism". Saying you can is not only extremely offensive to people with Autism and their loved ones, but it leads people to believe there is a cure, or that being Autistic is "bad". Neither is the case! Autism is NOT a disease! It does NOT need to be "fought"! Only someone against equity and the 7 Mindsets would be ignorant enough to write "fight Autism".
Michael Smith says some of the proceeds will go to the Autism Society of Greater Akron, except "fighting Autism" is not part of their mission. It's clear that Michael Smith selected this organization simply because a few of his readers expressed interest in him donating there, and he thought that would make people more likely to buy raffle tickets. It's clear he did not do any research on the organization, what they stand for, or what they even do there.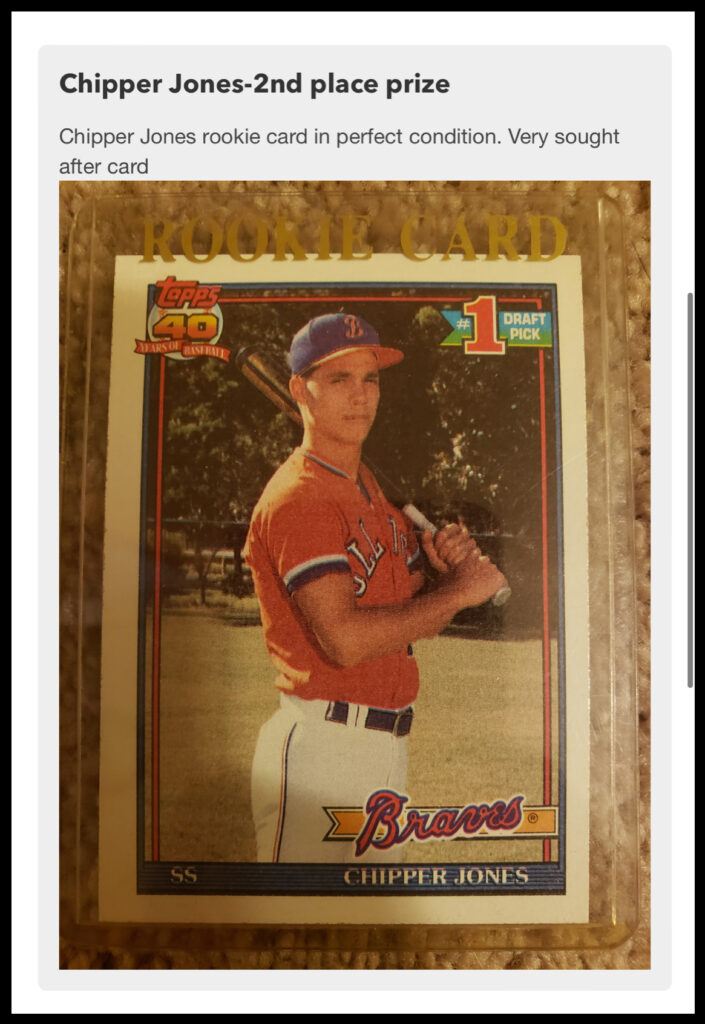 The second prize, according to Michael Smith, is a "very sought after" Chipper Jones rookie card in "perfect condition". This is another lie from Michael Smith, as this card is practically worthless. Not only is the centering of the card very far to the right, but this card is part of the Junk Wax Era and was massively overproduced. The only valuable versions of this card are from the Desert Shield set and have a foil stamp towards the top right corner (pictured below), which you can see Michael Smith's card does not have. If you won this prize, you'd have paid $10 to win a card that's worth about $3, according to eBay sold listings.
If you'd like to donate directly to the Autism Society of Greater Akron, you may do so HERE. Since they are a 501(c)3 organization, your gift will be tax-deductible. It will not be tax-deductible if you donate through "The Nordonia News", and there's a very good chance the Autism Society of Greater Akron will never even see a penny of what's raised, as the "Editor" Michael Smith is a homeless criminal whose crime of choice is theft. Be vigilant. Don't get scammed.