Welcome to the first blog of our "Michael's Lies" series! In today's blog, we will be discussing several different lies that Michael Smith of "The Nordonia News" has told over the last month and a half, and will also be showing the much anticipated police report he made against this page. Let's get into it!
On February 21st, Michael made a post about the Summit County Sheriff being at the suspect's house. In this post, he reminds his followers that he does not condone doxxing, despite having doxxed several people himself. He mentions that calling the police wouldn't have been necessary if a family member wasn't "physically harassed" at the "false address" on the public records we've posted. See the post below:
This post itself has several different lies in it, so we'll go in order.
LIE #1
Michael Smith says the Summit County Sheriff is at the suspect's house. We've obtained the police report via public records request. In the report, seen below, it makes no mention of visiting any suspect at their home. It even says "Mr. Smith does not know who the creator of these social media sites [is]."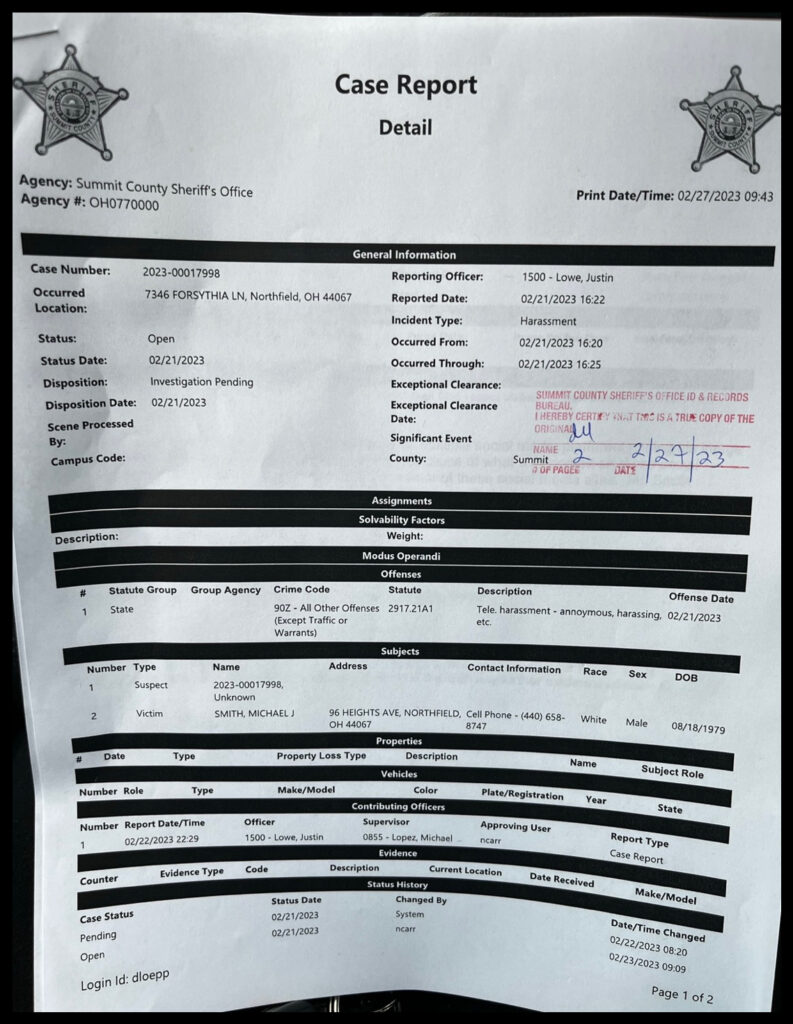 It is interesting to note that the address listed for him on the police report is an old address that he hasn't lived at in quite some time. Michael Smith is currently homeless/sleeping at his Mom's house. If the old address is listed on the police report because it is listed on his driver's license, that means if he voted in the last election, he did so illegally.
LIE #2
In the post from February 21st, Michael Smith says he does not condone doxxing of anyone in the community. This morning, April 9th, Michael doxxed a member of the community by posting her name, address, and phone number to his 883 followers on "The Nordonia News" page. See the (censored) screenshot below: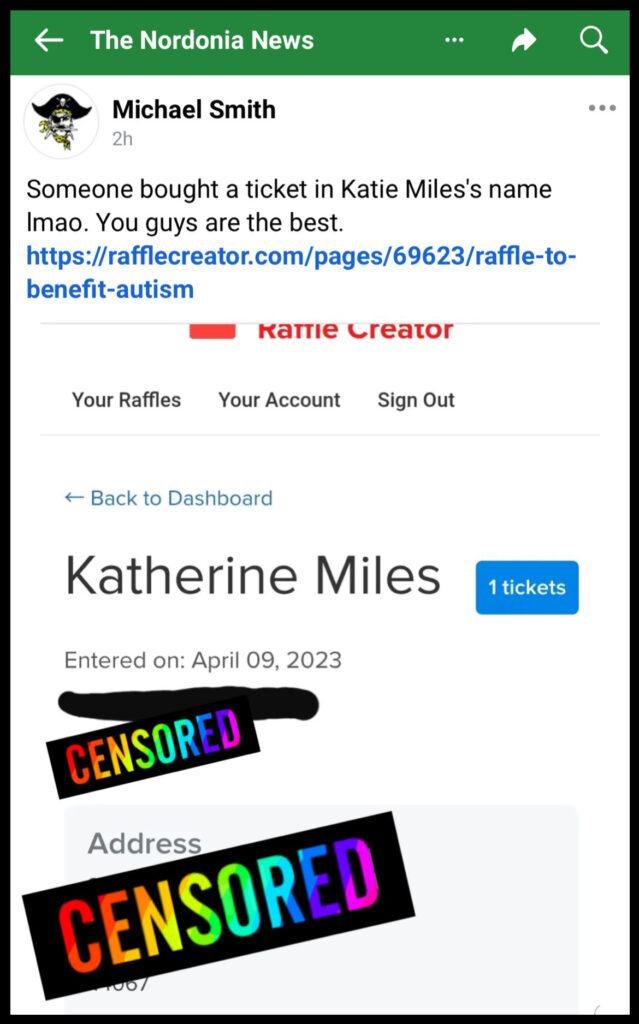 While this is not the first time he's contradicted himself with this kind of behavior, today's instance was more interesting since just last night he compared himself to Jesus and how he was "persecuted".
Every time we think he can't get more embarrassing- he outdoes himself! Even his supporters were shocked and offended by this laughable comparison and over simplification of the Easter holiday.
LIE #3
Michael says in his post on February 21st that he had to call the police because his family member was "physically harassed" at his former address because of this website posting his public records. The police report makes no mention of this. We have also confirmed with the Northfield Village Police Department that there have been zero calls for police at Michael Smith's former address. We've also confirmed that no one in his family currently resides there and have not lived there in 10-15 years.
LIE #4
On April 3rd, Michael Smith left a comment on another page saying that he likes us having a page (see below). In the police report, the deputy notes that "Mr. Smith wanted to report that he is being harassed on multiple social media platforms ruining his image as a person." These contradictions are typical of Smith. He likes to try to look tough while simultaneously being a weak sniveling coward. Michael Smith loves to post everyone else's public records, but can't stand when the tables are turned and his records are posted.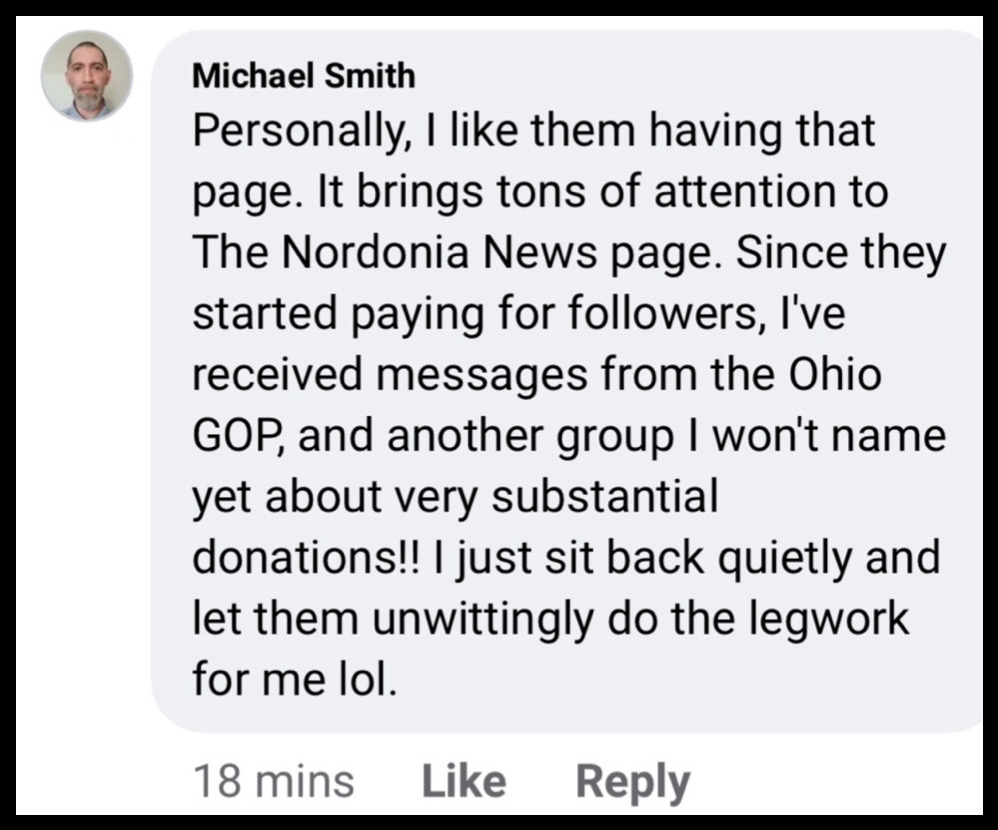 LIE #5
In Michael Smith's comment from April 3rd, he also mentions that he will be getting "very substantial donations" from the Ohio GOP and "another group" he "won't name yet". Michael Smith does not have a registered 501(c)3 to accept such donations, and the Ohio GOP does not donate via CashApp.
This concludes Volume 1 of Michael's Lies, stay tuned for many more to come!